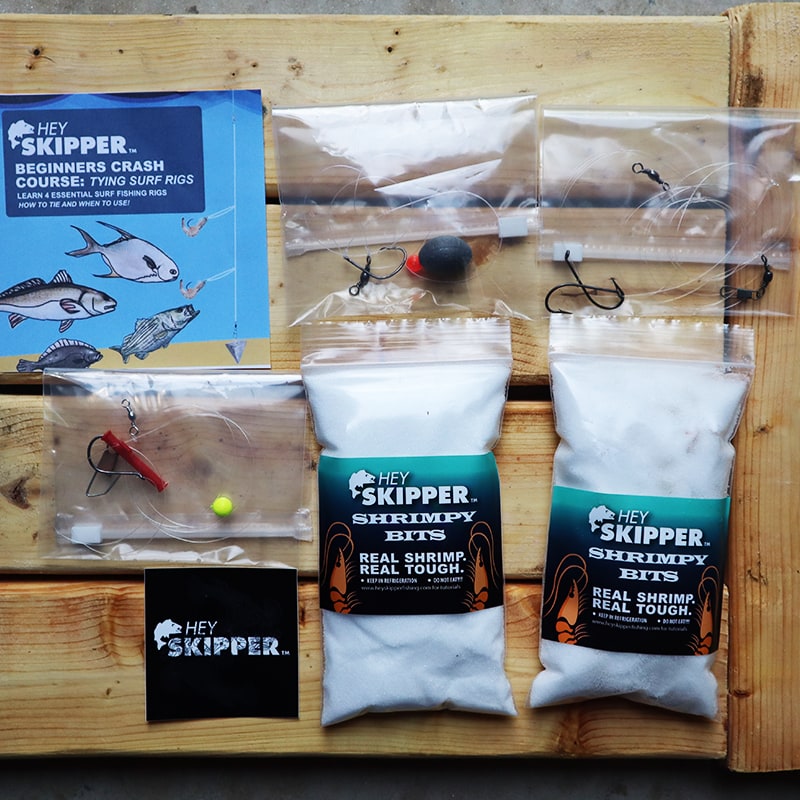 Enter Giveaway!
It's summer! The weather is great, the fish are biting and it's the perfect time to learn how to fish! We want to help YOU get on fish by sharing some of our latest and greatest bait, rigs, and techniques. This giveaway bundle will include 2 packs of Shrimpy Bits fishing bait, 4 fishing rigs (personally hand-tied by Brendon himself,) and our 'How to Tie Surf Rigs' Ebook teaching you how to tie your own fishing rigs for future trips!
HERE'S WHAT YOU'LL WIN:
Enter Giveaway!
Squidy Bits are a time-proven bait that stay good indefinitely in refrigeration, so there should be no worry of having to go fishing without any bait (no matter how long your quarantine lasts.)
This giveaway is open from July 29th to August 10th! Winner will be chosen August 10th at 11:59 pm EST No purchase is necessary and open to US residents only (sorry, we love you too international friends!)
Shrimpy bits- These shrimp are the perfect size to put on a hook whole or cut up for smaller fish. Stop dealing with messy, mushy, stinky, frozen shrimp and try our freshly preserved salted shrimps for a great day of fishing! These shrimps are tough as nails and one piece will last for multiple fish. These are mess-free shrimp that we hand-salted in a special dry brine mixture. All the natural scents of a real shrimp are preserved within this dry salted version. As soon as the shrimp hits the water, it starts to take in moisture again and releases a cloud of shrimp scent!  Each pack will come with 25-50 fresh salted shrimps in our special salt mixture.
Hand Tied Rigs – I will personally hand tie the 4 rigs I use most often. These rigs should work anywhere around the world, freshwater or saltwater. You will receive:
1 High-low Rig

1 Fish Finder Rig

1 Carolina Rig
How to Tie Surf Rigs Ebook- This book has the blue prints and all the info you need to learn how to tie your own fishing rigs, available as a digital download to your computer or phone.
Together, this makes a perfect bundle of fishing goodies that is long-lasting and highly effective for catching all kinds of fish. We hope that this will allow one lucky winner a fantastic day on the water with their family catching all kinds of fish.
Enter Giveaway!
Recommended Products